Boston Accents playlist 02.13.12: Sand Reckoner, Autochrome, Looks Realistic, RIBS, Twin Berlin, Ducky Boys, Vessel, Highway Ghosts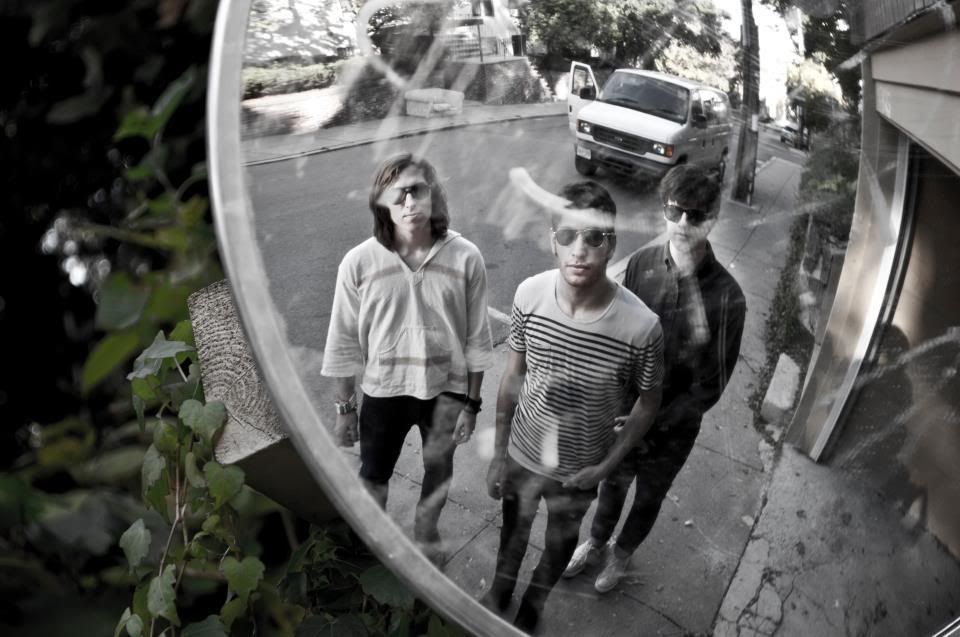 Up against the Grammy's and everyone's self-important live-tweeting, the sonic tanks rolled hard through the rugged land of Boston rock and pop this Sunday evening. We debuted a few jams, recapped On The Download's constant stream of local rock club news and rumors, and had a lovely time hyping up a shit ton of upcoming gigs around town. Dig in, dive in, chip in. Believe in Boston. xox
SAND RECKONER "Morning Star" - Another entry in the Boston psych rock revival, a trio recently having relocated to Boston from Philadelphia (that's so Driscoll!), they have a record release party April 5 at O'Brien's Pub in Allston. "Morning Star" one of two tracks the band distributed a few weeks ago.
AUTOCHROME "100 Series" - Debut record Separation Realms out March 30 with a release party at T.T. The Bear's Place in Cambridge, a stellar bill with Soccer Mom, Young Adults and Night Fruit. Autochrome also play the Pill this Friday.
JAPANESE MONSTER "The Shore" - Bleeps, Sweeps, Creeps re-released via USB-port last month, the synthpop band attacks Radio in Somerville on February 16 alongside J/Q (Clouds side project) and Missing Ships. Looks for a J/Q Mp3 of the Week in this Thursday's Boston Phoenix, written by Allston Pudding's Perry Eaton.
GLASS T33TH remixing BATHAUS "Inferno" - Hopefully you rolled up early to Die Antwoord's show at the Paradise this past Friday, as Xavier Glass's opening DJ set killed. The prolific remixer here lends with dark vision to Bathaus.
RIBS "Cosmos" - While we're awaiting RIBS' new EP Russian Blood, due out sometime this year, the louder-now rock quartet hits Brighton Music Hall this Friday, February 17 opening for Junius and O'Brother. Killer bill.
HIGHWAY GHOSTS "Alone" - Lead track off new record Beyond All Help, which gets the release party treatment Friday, March 2 at Johnny D's.
STEPHIE COPLAN & THE PEDESTRIANS "Jerk" - Former Tufts student Coplan back in town Saturday, February 18 for an already sold-out EP-release party at the Lizard Lounge in Cambridge. Read my Cellars by Starlight column on Coplan - which traces her early years as a songwriter to her stints at the Lixard's open mic nights to the "Jerk" that inspired this here song -- in this Thursday's Boston Phoenix.
YALE MA "Danger City Population Me" - Yale likes getting shit thrown at them, so feel free this Tuesday, February 14 when the Massholes play Great Scott in Allston with the Jealous Sound and Soccer Mom.
VESSEL "I'm Going to Miss This When I'm Dead" - Demo cut from this New Hampshire-based instrumental post-rock ensemble, who are currently working on new material.
COLOR CHANNEL "Pyramid of Love" - Atmospheric post-punk that has drawn live comparisons to everyone from PiL to Satisfact. Eagerly awaiting new material from these dudes…
YOU CAN BE A WESLEY "Creatures" - The Wesleys shot a tour video in November using only three rolls of super8 film, and the result just premiered on Impose TV.
TWIN BERLIN "Give Up On Me" - Garage rock trio ready to drop new There Goes My Virtue EP, which features album artwork by the late Mikey Welsh and was recorded in Los Angeles with Blink 182's Travis Barker. Record drops March 9 at the Hard Rock Café. MTV is all over this shit.
DEAD ELLINGTON "Breaking Down" - Punk band following up last year's Refuse Rethink Rebuild album with plans for a series of 7-inch records, starting with the Refuse vinyl. Check out their Kickstarter and help make it happen!
HAVE NOTS "Louisville Slugger" - Got a nice little street punk set going here so why not drop one of the best Boston tracks of 2011? Have Nots play Bright on Music Hall on March 9 with Anti-Flag.
DUCKY BOYS "Won't You Come Home" - Boston punk veterans drop 6th studio album Chasing the Ghost over two nights at Great Scott, February 18 and 19. Playing this tracks mainly because I didn't hear a swear word in it. See FCC, I'm on YOUR fucking side.
RAZORS IN THE NIGHT "Carry On" - Was hoping this was a Manowar cover when I saw it in the system, but Troy and the boys still deliver. Opening for Rancid at the House of Blues on May 20.
DIRTY DISHES "Hush" - Latest single from hot-tipped Boston breakout act, off new EP The Most Tarnished Birds, which we played on the WFNX Breakfast Show last week. Sweet. Record drops March 4 at Great Scott on a super-duper bill with Team Spirit (Ayad Al-Adhamy of Passion Pit), Magic Magic and a Devil & A Penny. We should live broadcast Boston Accents from this jam.
FAT CREEPS "Nancy Drew" - Dope new video from the Creeps hit last week, featuring clogs, headbanging, murder, and w33d. It rules, watch it. The Creeps are at Precinct in Somerville on February 23.
YOU WON'T "Who Knew" - This week's Cellars By Starlight darlings release new album Skeptic Goodbye this Thursday at TT The Bear's, the inaugural Phoenix Presents… show. Attend it.
MEDALLION "Moon Rave" - Shifting gears with some 2010 experimental electronic pop…
HERRA TERRA "You Are The Accelerator" -- …then going full rage with HT, who perform at the Magic Room Gallery in Brighton March 2 alongside Casey Desmond, Andre Obin, and Stereo Telescope.
LOOKS REALISTIC "Ninja Turtles" - Some ambient prog-pop off 2010's sans record; was gonna play something off last year's Opticoral, but it's just one track clocking in at more than 21 minutes. Maybe next week we'll clock out at 9:40pm and let it ride.
EARTHQUAKE PARTY "Nails & Hammers" - When you need a filler track of no more than 50 seconds, you either grab the Vaccines if it's a national pop show, or if it's a Boston program you saddle up with some EParty. Word. Playing February 20 at Great Scott for an Allston Pudding gig with Skaters, ABADABAD and others.
SUICIDE DOLLS "Drive" - Connecticut rock and roll machine hitting O'Brien's on February 17, and while I'm sure this song has nothing to do with the film, holy fuck how great was Drive? Sweet jesus…
NIGHT FRUIT "Float" - Boston Band Crush issued this rad jam a while back, and we certainly love the fun-loving side of Night Fruit. Playing a few aforementioned shows, as well as March 1 at Radio in Somerville with Guillermo Sexo.
xoMM
---