Boston Accents playlist 04.01.12: Gentlemen Hall, R.M. Hendrix, Fat Creeps, Radio Control, Orca Orca, Freezepop, Jenn Vix, Sand Reckoner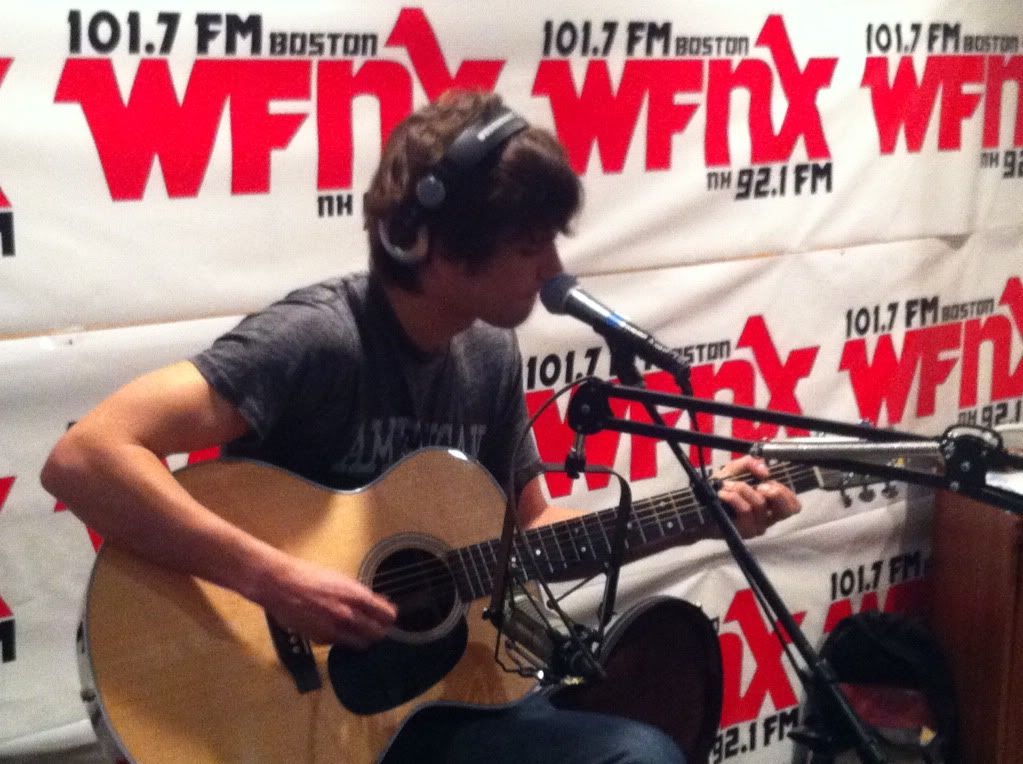 We have our Local Exposure artist for April: GENTLEMEN HALL. Props to the Boston electronic pop sextet for coming up to the WFNX studios to hang, talk ragtime, and play a semi-stripped down mini-session live on air. GHall world premiered two new tracks - "Makes Me Feel Alive" and "Golden Age" - and we also debuted their new Flam Clap remix, which you can download as the Boston Phoenix Mp3 of the Week this Thursday. So keep it locked to On The Download, and party with us Saturday, April 7 when Gentlemen Hall plays Brighton Music Hall in Allston on a Boston Accents presents bill alongside Freezepop, Art Decade, and the Doorbells.
R.M. HENDRIX "Summer Dresses" - Very cool new track from Cambridge's R.M. Hendrix, a springtime tune that's a re-working of one of his other songs, "Ivorine & Chai."
FAT CREEPS "Leave Her Alone" - First we fell in love with "Nancy Drew," and now we're falling in love with this latest Fat Creeps joint. Catch these saucy ladies April 13 at O'Brien's Pub in Allston, and hey, we think they're still looking for a drummer. Holla.
ORCA ORCA "Say So" - Jimmy Hewitt releases the Make Live EP and cassette this Friday, April 6 at O'Brien's on a sweet bill with Abadabad, Cheerleader, and the Fantasies. We've been hooked on Orca Orca since we first spun his debut jam, "Change of Pace," late last year.
GENTLEMEN HALL "All Our Love" - Joined in the studio by the GHall blokes…
BEARSTRONAUT "Birds of Prey" - Brand new dance track from these Allston/Somerville dudes who just played a sold-out show with Bad Rabbits at BMH this past Friday. New EP expected over the summer.
GENTLEMEN HALL "Take Me Under" - More from our guests this evening.
GENTLEMEN HALL "Blush" - And one last studio cut, for good measure, the closing number off last year's EP, When We All Disappear, which you can now download for free via gentlemenhall.com.
FREEZEPOP "Doppelganger" - Breaking out some 'Pop to celebrate their gig with Gentlemen Hall this Saturday at BMH. Off their last , award-winning record, Imaginary Friends.
ROGUEWAVES "Ruins" - Isom Innis-produced track (Foster the People, Southern Belle) featuring Keely Bumford that I just can not get enough of, released back in 2008 or so. Still awesome.
GENTLEMEN HALL "Close To Me (Flam Clap Remix)" - Premiering the Mp3 of the Week set to drop in this Thursday's Phoenix. Flam Clap are three Boston producers who have also remixed Ellie Goulding, Amy Winehouse and Adele. http://soundcloud.com/flam-clap
JENN VIX "Sick" - Spooky new track from Rhode Island's mistress of the dark underground, Miss Jenn Vix.
SPF 5000 "Doorknocker" - Still can't get enough of this SPF joint, this Somerville duo are crushing it.
GAMBLE & BURKE "Lay Low" - Shouting out to Worcester and dusting off this electronic jam we were bumping a few months ago, goes really well with "Doorknocker."
AVOXBLUE "The Confessional" - Excellent solo output from Jimmy Rossi, also of the December Sound.
M.O.O.N. "Release (Wrong Island Remix)" -- Excellent heavy house track from Stephen Gilarde, who has a couple of Boston-area shows coming up, including April 4 at Church with Secret School, as well as April 10 at Wonder Bar in Allston, and April 28 again at Church.
ANDRE OBIN "A Star Is Torn" - B-side off Obin's upcoming 7-inch release Valencia, which drops this Friday at the pill at Great Scott in Allston.
AUTOCHROME "Zero Zero" - Fast-rising post-punk boys and girl packed out T.T. The Bear's in Cambridge this past Friday for the release party of their debut record Separation Realms. They sold a fuck ton of CDs at the party and sold out of ALL their t-shirts. Well done, everyone.
MAGIC MAGIC "Sleepy Lion (French Horn Rebellion Remix)" - Feeling all electro-poppy tonight with GHall in the house so I busted out this kinda oldie from a few years ago. Good to see Magic Magic playing out around town again after a short absence.
RADIO CONTROL "2015" - Garage punk band playing at Great Scott Monday night, opening for Heavy Cream and Hunx & His Punx.
SAND RECKONER "Morning Star" - Check out my Cellars by Starlight on Sand Reckoner and their Sensory Exhibition, as well as the deets on their debut record out Thursday night at O'Brien's Pub on a killer bill with MMOSS, Apache Dropout, and Seattle's Night Beats.
---