Boston Accents playlist 06.17.12: Father's Day set + Best Music Poll edition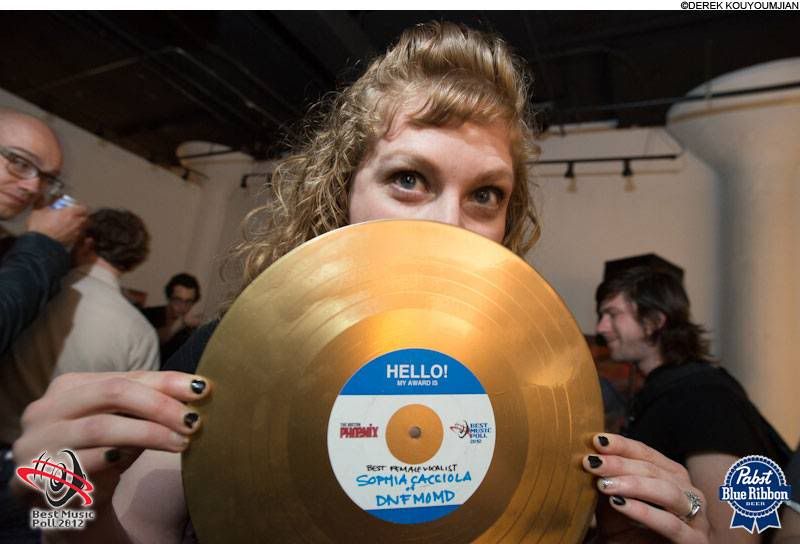 Happy Father's Day! Good vibes all around Boston on this beautiful spring day, so we'll play a set dedicated to the dads around town, spin some Best Music Poll winners – that's SOPHIA CACCIOLA of DO NOT FORSAKE ME OH MY DARLING there up top!; check out the full winner's gallery here – and also get into some bands playing around Boston this week. Don't forget, the Boston Accents Funeral Parties are next month, and that shit will be here before we know it. And when it does, we'll be gone, as our last show in this format will be Sunday, July 15. That means we have four more after tonight. Yikes!
VIVA VIVA "Hailing A Cab In Hell" – Named Boston Accents Song of the Year in the 2012 Boston Phoenix Best Music Poll. One hell of a jam, and deserving of the honor, as voted on by our readers.
DADFIGHT "UFO" – Getting into our Father's Day set with a Cambridge rock band that released their new record Paternity Test tonight at All Asia Café. Now that's planning! There might still be time to catch their set, hurry up!
GIRLFRIENDS "Boys To Men" – When you get a girlfriend pregnant, you go from a boy to man. Hopefully. This band is now called Bent Shapes.
#1 DAD & DJ FRED MERTZ "Summer Song (Tag Ur It) Remix" – Found this old gem via an On The Download post from 2009 – the link is still active! Nice reminder of Michael Potvin's awesome electronic pop contributions to this city, and a cool reminder of the Thunderdome dance parties.
JOHN POWHIDA "Daddy's The Man" – Now we're cranking, with a proper Pops Day track from the winner of the 2011 Rock And Roll Rumble.
THE STERNS "Papa, You're In Your Prime" – Going back to the Sterns' 2006 record Sinners Stick Together, which also included the great single "Buffer Zone." Based on the title, I dedicated this one to my dad, Mike Marotta Sr., but oops! It looks like it's about a deadbeat dad who takes off after things got tough. Sorry bout that, pops.
PAPAS FRITAS "Hey Hey You Say" – Having PAPA in your band name is good enough to get played on this specialty gimmicky novelty show!
JORDAN VALENTINE & THE SUNDAY SAINTS "Daddy's Boy" – Another good one for the show, though Miss Valentine now lives in Pittsburgh after doing a decade's worth of soul shaking out here in Boston. The World's Greatest Singers had the BEST show flyers and band merch; I still have a poster of their from back around 2006.
TIN THISTLES "Accidents Happen" – One last Father's Day track, for all the dads that wish they weren't dads.
THE SUNSET HEARTS "Past Lives" – New J _ A _ M from a Portland, Maine, band that will soon be featured by the Boston Phoenix. June 29 issue, to be exact. We can't tell you any more other than that. But, please, get this track here; it fucking rules.
GENTLEMEN HALL "Take Me Under" – Named Best Boston Act in the 2k12 BMP. Headlining Night 3 of the Boston Accents Funeral Party, July 25 at Great Scott.
BAD RABBITS "1979" – Named Best Live Act and Dua Boakye named Best Male Vocalist. Lone band on the Boston side to win two awards.
GHOST BOX ORCHESTRA "Vanished" – Named Best Psych/Experimental Act. Playing Great Scott on Tuesday with Wymond Miles.
DO NOT FORSAKE ME OH MY DARLING "First We Take Manhattan" – Sophia Cacciola named Best Female Vocalist.
YALE MA "Danger City Population Me" – Named Best New Act, and we're feeling pretty emo about it.
STREIGHT ANGULAR "Musheenz Machines Meschynes" – Named Best Garage Rock Act, plating at T.T. The Bear's next Sunday with Ms Mr (or Mr Ms). 
QUILT "Young Gold" – Their self-titled record was named Album/EP of the Year.
MARCONI "Grady Calloway's Heart of Gold" – Newish band from Luke Kirkland formerly of Night Rally with some new music to give us. Playing Saturday at Great Scott with Banditas, Battle House, and Thief Thief, and their record release party arrives July 20 at TT's with Cuffs, Oranjuly and Hands And Knees.
SPEEDY ORTIZ "Silver Spring" – Perhaps the buzziest band in Boston got a shout out on our Best Music Poll blog page, where we asked seven music blogs around town to hype their favorite bands not on the ballot, like Larceniast, the Okay Win, Field Effect, and this here Speedy Ortiz.
THE HUSH NOW "Taste (Ride Cover)" – Playing at Radio in Somerville with Leo Blais and others June 20; here's their track from the recent NOFUCKINGWHERE compilation, where 11 Boston bands and artists recreated Ride's classic 1990 shoegaze album, Nowhere.
SLOWDIM "Money" – Recent single from Paul Sentz's melody makers. At Great Scott tomorrow night with Magic Magic and Slowdim.
GARVY J "Celebrate" – They got snubbed last week when I played all the bands performing at the June 30 tribute to WFNX, We Want The Airwaves, so I'm rectifying that so they don't remind me of the omission of Facebook later tonight.
O POSITIVE "Talk About Love" – Had so much fun playing "Up Up Up" last week, I'm double dipping from this We Want The Airwaves performers, and plus, this song sounds really good with…
COOLING TOWERS "Hard Headed Woman" -- … this latest track from the noir-rock crew known as Cooling Towers. Playing June 29 at the Cantab in Cambridge with the Milling Gowns and others.
RIBS "Gateway Drug" – Another track off their incredible Russian Blood EP, catch RIBS at a FREE show this Wednesday at the Hard Rock Café in Faneuil Hall, the last of our Local Exposure series. RSVP HERE.
YOUNG ADULTS "Born In '91" – New track from Allston pink trio, released on cassingle. Excited to hear more new music from them soon.
FAT CREEPS "Leave Her Alone" – The Creeps are not only shooting a video later this month and all are invited, but they're also playing Night 1 of the Boston Accents Funeral Party, Monday, July 23 at Great Scott.
BUFFALO TOM "Age of Consent" – Closing out with one of my favorite songs of all time covered by one of my favorite Boston bands of all time. Can't go wrong here.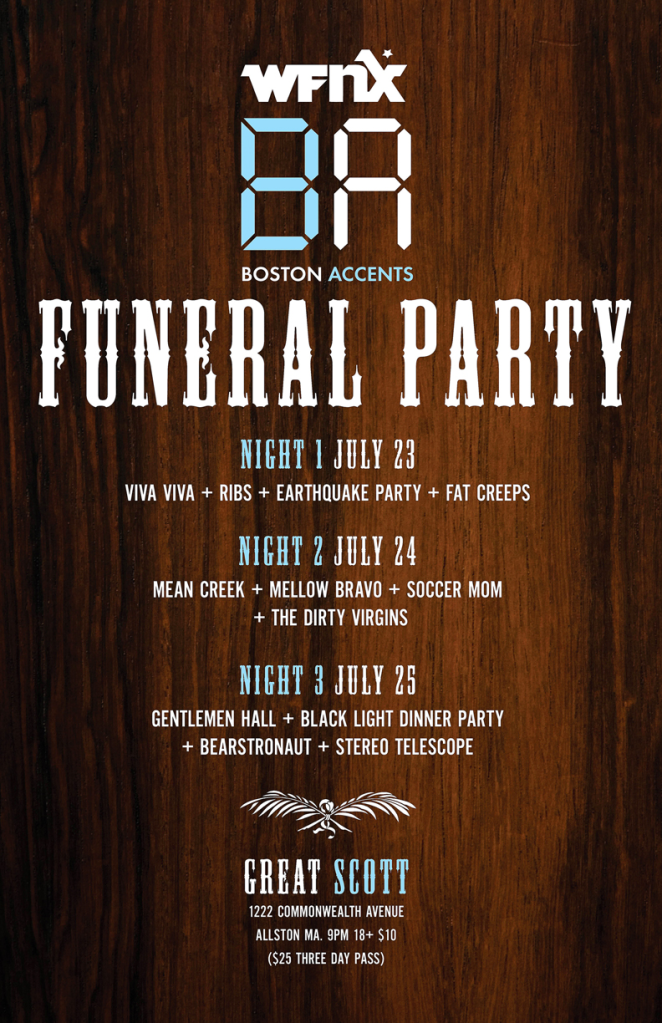 ---