Boston Accents 06.24.12: We Want The Airwaves, Fat Creeps, Parlour Bells, Onslo, Case & Point, Bedfellows, Hands And Knees, Sunset Hearts, Lifestyle, In Tangiers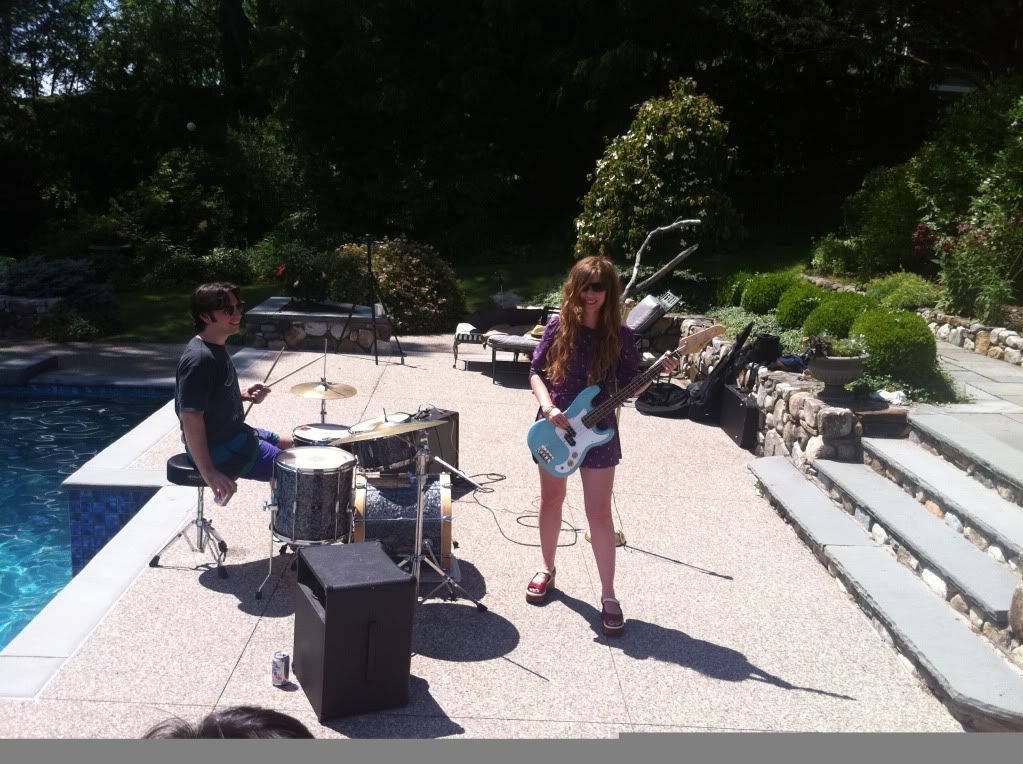 Happy Sunday, and good tiding to all. This is our 4th to last Boston Accents on WFNX, and the countdown to extinction is really in full swing. Tonight we hyped Saturday's big party at the Paradise, the WFNX Tribute "We Want The Airwaves." Thanks to Bruce McDonald (who will host a warn-up show on WFNX Friday from 2 to 6pm) for hooking us up with a pair of tickets to give away, and props to Parlour Bells – performing that night alongside O Positive, Orbit, Garvy J, and a host of former WFNX DJs – who recorded "Airwaves" last week as a salute to our radio station. If you listen closely, you can hear my stupid ass trying to sing in the Metropolitan Chorale. I would say I'll stick to radio – but maybe that won't be possible after July 15. Here's our jams this week, it was a good show; rock and roll up top, a dance party on the back end.
FAT CREEPS "Leave Her Alone" – Kicking off with the latest from the alleged "surf-goth" trio, who shot their new pool party music video "Gary" all afternoon up in Beverly. If you want to see someone slap the shit out of me, watch the video when it's released in a few weeks. There's an EXCLUSIVE look at the shoot up above; photo by me.
BEDFELLOWS "It Happened One Night" – New track from Justin Vasallo, formerly of Cambridge/Somerville duo Technoir MA. Vasallo now lives in Brooklyn, but his new record You & I was partially recorded in Somerville.
PASSION PIT "I'll Be Alright" – The Pit crushed the Bank of America Pavilion this past Friday night, even after the show was delayed due to a power outage. This is the latest single off new record Gossamer, out July 24.
PARLOUR BELLS "Airwaves" – The aforementioned song lamenting the loss of WFNX; thanks to the Bells for inviting me and several others – members of the Lights Out, Naked On Roller Skates, various Epsteinia – into Q Division last Thursday to record the track gang-vocal-style, and we'll see everyone Saturday at the 'Dise.
IN TANGIERS "My Balance Blank" – From the Cambridge artists formerly known as New Collisions. Recorded and produced by Richard Marr at Galexy Park Studios in Allston.
HANDS AND KNEES "Dreamt" – Our current Mp3 of the Week in the Boston Phoenix, catch H+K at T.T. The Bear's this Thursday for their record-release party for Red Hot Minnow.
NIGHT FRUIT "Float" – An old fave of mine, catch Night Fruit at Charlie's Kitchen tomorrow night alongside Horsehands, Green Paper, and Nervous.
CHANDELIERS "Here And Now (Ride Cover)" – Allston trio playing Great Scott on Wednesday at the latest Treat Yo Self party hosted by Eye Design – a good time featuring artists, vendors, bands, etc. Kal Marks, Devil and a Penny and Pretty & Nice round out the bill. Damn. This Ride cover is from the recent NOFUCKINGWHERE compilation of Boston bands and artists recreating Nowhere.
ENDLESS WAVE "The Rising Tide" – From the Wave's 2011 Notes from the Compound record, the skygaze trio are playing live at a WZBC Flyweight presents show Friday at T.T.'s with Dead Leaf Echo, Ohio's Love Culture, and…
DECEMBER SOUND "Kill Me Before I Kill You" -- … these rowdy psych-rock veterans, who will have a new record out on vinyl by year's end. Gonna sound huge.
SPEEDY ORTIZ "Silver Spring" – Grab the Boston Phoenix this Thursday for a pretty cool honor we're bestowing on this Northampton band, who are currently on the road supporting their new EP, Sports.
COOLING TOWERS "Hard Headed Woman" – Celebrating their two-year anniversary with a gig this Friday at the Cantab Lounge in Central Square with Milling Gowns, Eksi Ekso, and Pressure System. Happy birthday, y'all.
ONSLO "Pappy Sugar" – Tonight's Album/EP spotlight is on punk trio Onslo, nominated for best punk/hardcore act in the Phoenix's recent Best Music Poll, their new A Taste of Purple EP is out now via Bandcamp, and you can catch them July 21 at DIY Fest at Ringer Park in Allston.
ONSLO "All Power Is Willpower" – Spotlight act.
ONSLO "Wet $" – Spotlight act.
VENDING MACHETES "The Place Where No One Waits" – New music from the Machetes, the lead track off their new record Good Grief; they're at the Middle East tonight, and there might still be time to catch them so have at it.
CASE & POINT "Razor" – Progressive house/electro duo from Boston, featuring Casey Vadum (Repeat Offenders) and TJ Jordan (ex-Black Light Dinner Party); currently at Number 29 on Hype Machine and amassing roughly 3,000 likes on Facebook after a few weeks. Also peep their Radiohead "Everything In Its Right Place" remix.
CASEY DESMOND + TERRAVITA "Settle The Score" – Dubstep banger from the dudes in Hot Pink Delorean and miss Casey Desmond, who celebrates her birthday tomorrow.
JOHN BARERA "Sound Love" – Back to the house beat with one of Boston's rising electronic music producers.
THE DIFFERENCE ENGINE "You Have To Stay" – New track from the Difference Engine (Boston), featuring Christopher Brown formerly of the 8mm Fuzz.
AVOXBLUE "The Confessional" – Ambient electronic solo project from Jimmy Rossi, who moonlights in the December Sound in addition to being the pulse of Avoxblue. Check Avox love tomorrow night at T. T. The Bear's when he opens for Exitmusic.
ANDRE OBIN "Lemondrop" – Going chillwave-y with another Boston-based solo artist/composer.
SUNSET HEARTS "Past Lives" – Repping Maine, and on Thursday to be named the Best New Band in Maine in the annual Boston Phoenix 50 Bands 50 States issue. One of the absolute BEST tracks of 2012 and a band to watch; playing the KahBang festival with Deftones and Bad Rabbits this August up in Bangor. Working on a Boston date because I wanna see this nine-member project play live!
BEARSTRONAUT "Painted In The Dark" – Latest single from the Somerville/Allston post-dance crew, which will be featured in the upcoming indie flick This Thing With Sarah. Also playing the Boston Accents Funeral Party Night 3 on Wednesday, July 25 at Great Scott.
M.O.O.N. "Paris" – I mentioned a few weeks ago that what I'll miss most about WFNX and Boston Accents is playing stuff like Glass Teeth, but throw Stephen Gilarde's M.O.O.N. into the mix as well.
SPF 5000 "Paraiso" – Hot Latin-flavored house track from the SPF electro crew that doesn't get enough love here on the Accents.
LIFESTYLE "Sound" – Closing up with an old classic, Lifestyle currently on tour with Freezepop. They share many things, those two acts, including Sean Drinkwater.
Thanks for listening.
xoxo Michael
---