Boston Accents 07.08.12: Second to last with Infinity Girl, Allston Pudding, California X, Luau, Fat Creeps, UV Protection, Secret School, Royal Wedding + BA Funeral Party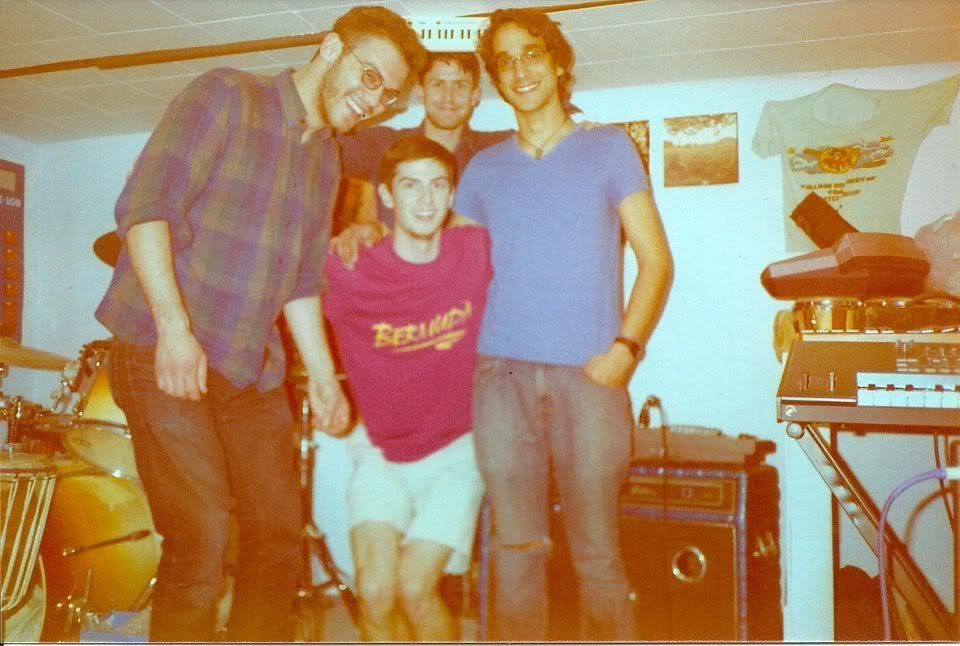 And after tonight, there's only one more show left – our time is nearly up on the FM dial, which is essentially the new AM dial. Don't miss the grand finale for our Boston Accents as we currently know it, starting next Sunday at 8pm – we'll have a bunch of in studio guests and maybe, just maybe, we'll break curfew and party all night long. Onto tonight's wet hot Boston summer action...
INFINITY GIRL "Please Forget" – Got hip to this noisy Boston quartet (maybe named after the Stereolab song??) via the latest Allston Pudding Localz Only: July mixtape, and became smitten with this jam, track 2 off their Stop Being On My Side record that came out in May.
INFINITY GIRL "Please Forget" – Yeah fuck it, I played it twice. Catch Infinity Girl August 4 at Precinct in Somerville and then on August 30 at T. T. The Bear's Place in Cambridge. BAND 2 WATCH, says I.
CALIFORNIA X "Mummy" – Another band off the AP comp, repping Amherst. Lotta cool shit going on in Western Mass.
FAT CREEPS "Leave Her Alone" – In honor of the new Fat Creeps music video for "Cherry," in which I get slapped by a lady after she catches me checking out a life-sized slice of pizza. For real. Beach party Sunday fun times!
LUAU "Paris" – Off February's Spring Fever double single, they're at O'Brien's Tuesday. The Phoenix's OUT column caught up with Luau and Comanche about a year ago.
BLANKS "Pouncer" – Going back a few years with this Honeypump Records release, off the post-punk band's Infinite Lives record. I found it in my personal collection this afternoon and dusted it off.
UV PROTECTION "Cool Tall Buildings" – Another from my private Boston Music Scene stash, experimental electronic trio (I believe) from the mid-2000s. Some of their members now play in the Secret Sea.
AVOXBLUE "Dreaming Thru Your Eyes (Andre Obin Remix)" – Two electronic music producers coming together here with dazzing results; Obin and Jimmy Rossi perform live on Sunday, July 22 at Middlesex Lounge with New Jersey's Teele and...
SECRET SCHOOL "I.O.U. (Secret School's Backpack Remix)" -- … Secret School, who posted this rework of the Ghost Ocean track just as we fired up Accents tonight and shit sounds pretty good. Andrew Sutherland knows what's up. July 22 gonna be a rager.
BLACK LIGHT DINNER PARTY "Leave It All" – Electronic wizards are playing Night 3 of the Boston Accents Funeral Party, Wednesday July 25 alongside Gentlemen Hall, Bearstronaut and Stereo Telescope. Details here. 
THE NEW HIGHWAY HYMNAL "Out With The Lights" – New track premiered by Vice Magazine's NOISEY blog on Friday; single-release party this Wednesday at Great Scott with MMOSS, Creaturos, and the Migs. I picked up 200 CD singles from CD Works in Beverly on Friday to hand out at the show. Releasing the track off my own Vanya Records.
THICK SHAKES "With Friends Like These" – New raucous garage rock jam off the French Dyppe cassingle released this past weekend.
TRANSIT "Listen & Forgive" – Stoneham pop-rock band about to set off on the summer Warped Tour, going strong with more than 44,000 likes on Facebook. Rep Boston well, gents, anmd thanks for hooking up the tracks.
THIS BUILDING'S ON FIRE "Brokenman" – New folk project from James Robert Harkins, who once dabbled in #1 Dad & DJ Fred Mertz with former Bostonian Michael Potvin. JRH hooked us up with the track earlier tonight. 
ROYAL WEDDING "Too Many Crowded In The Shelter" – Been seeing this band listed on so many show posters lately, wanted to see what was up. This is the third track off May's Transmigration record.
BEARSTRONAUT "Painted In The Dark" – Also playing Night 3 of the BA Funeral Party, this will be featured in the fall indie film, This Thing With Sarah.
CASE & POINT "I Love It (Original by Icona Pop)" – We premiered this last week, and wanted to blast it again as we might be the only station that has it. Massive banger remix by the duo of TJ Jordan and Casey Vadum, who joined us last week in-studio.
SPF 5000 "Doorknocker" – Mad love for the SPF crew, who have supported Boston Accents since I signed on last summer. Playing the W Hotel + Boston Phoenix Electric Summer music series on September 20. First such gig is July 26 and features Into The Alpha, Cobi Mike of Gentlemen Hall's side project.
MYSTERY ROAR "Fantasies" – Going out to my love, Casey Desmond, who is this late dance-pop/post-disco band's number 1 fan.
ORCA ORCA "Say So" – Allson dream-pop/post-punk project, first started by Jimmy Hewitt as a solo thang before rounding out the live band, playing the Pill this Friday at Great Scott in Allston.
THE POMPS "Icepack!" – The upcoming Mp3 of the Week in the Phoenix, ska supergroup featuring members of the Sterns, Void Union, and Have Nots, headlining Great Scott this Thursday night.
BON SAVANTS "Between The Moon & the Ocean" – Post-rock heroes back in town for another gig, July 19 at Great Scott. We've been kissing like a Russian since 2006's Post Rock Defends The Nation.
ABERDEEN CITY "God Is Going To Get Sick Of Me" – Another mid-2000s track off critically acclaimed Boston record The Freezing Atlantic, which "was voted the number one new album by the WFNX Boston Phoenix Best Music Poll 2006. The album also won Local Album of the Year at the 2006 Boston Music Awards, pairing with the bands win for Best Local Rock Act. The band's first single, "God is Going To Get Sick of Me" took home the "Local Song of the Year" award the previous year before the album had been nationally released." Guitarist/vocalist Chris McLaughlin is now a producer at his 1867 Recording Studio out of Chelsea.
IAN JAMES "All For Nothing" – By request, and to support a longtime supporter of the show.
NEMES "Hooray" – Another request, via Twitter, as the band heads to Brooklyn to play at the Rock Shop tonight.
MEAN CREEK "Sunlight" – Speaking of the Creek, band just announced a tour with Our Lady Peace, which hits the Paradise not too long after they headline Night 2 of the BA Funeral Party.
EARTHQUAKE PARTY "Pretty Little Hand" – Allston punk trio playing Night 1 of the Funeral Party and was just featured in Interview Magazine.
VIVA VIVA "Dead In Your Tracks" – Fitting end to tonight's show, and a band headlining Night 1 of the Funeral Party at Great Scott.
Love you, mean it. Thanks for listening.
xo Michael
---