Boston Accents playlist 10.09.11: Mikey Welsh appreciation, Fat Creeps, Yale MA, Future Bible Heroes, Avoxblue, Twin Berlin, Appomattox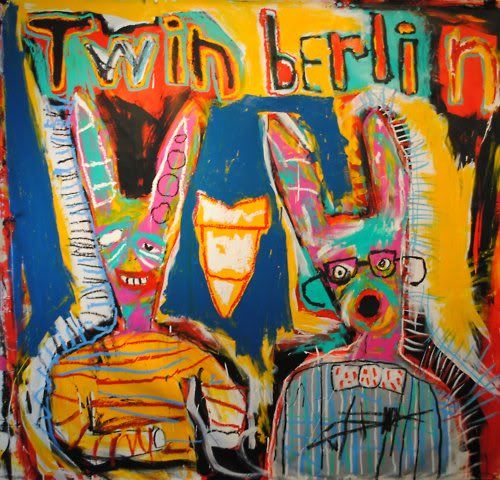 We started tonight's show with recognition of MIKEY WELSH, former Weezer bassist and longtime Boston rock and art scene veteran who died unexpectedly this weekend in Chicago. He was 40 years old. Boston Accents poured one out, and dedicated the first four songs of tonight's show to his memory and legacy. One love.
TWIN BERLIN, "Fake It Well" -- From their debut EP a few year's ago. Boston/Connecticut garage rock is flying to Los Angeles to record upcoming full-length, which features artwork created this spring by Welsh specifically for Twin Berlin (posted above). Read up on it here.
HERETIX, "Heart Attack" - From the band's 1990 album Gods & Gangsters. On September 26, Welsh tweeted "Dreamt I died in Chicago next weekend (heart attack in my sleep). Need to write my will today."
LEFT NUT, "Burned Black" - Carefree punk from Welsh off 1999's Everything It Takes To Be An Asshole record.
JULIANA HATFIELD, "Houseboy" - Welsh co-wrote and played bass on most of the tracks off this 2000 record, Juliana's Pony: Total System Failure; love Jules telling me to go to the store and buy condoms.
STREIGHT ANGULAR, "Supermarche" - Frenzied b-side off Everyone Is Syncopated.Get it for the Nice Prince of F R E E.
YALE, MA, "Danger City, Population Me" - Rad new band (members of Pretty & Nice) playing O'Brien's Pub in Allston on October 17. EP release party for Act Like You've Been There, of which "Danger City" is the lead track, out in early November. Look for it as a future Mp3 of the Week.
APPOMATTOX, "Radiator" - Band native of Boston, now playing around in New York City, but returning home for the Tiger Mountain party Saturday at the Cambridge Elks with Guillermo Sexo (more homecoming!), Future Carnivores, Mount Peru. Party was called Trust until I told them there are already parties called that in Boston.
SLOWDIM, "Don't Cough Me Out" - Lush alt-rock band of boys and gal playing PAs Lounge in Somerville this Thursday.
FAT HISTORY MONTH, "Free As A Cat" - Playing Charlie's Kitchen in Cambridge October 24, 7-inch release party with Thief Thief. It's a Suppy Cup Everything show.
FAT CREEPS, "Nancy Drew" -- Got this shit ona random tip earlier this week, digging the lo-fi beach-pop vibe. How did I miss this when it came out back in February?!?
ORCA ORCA, "Change Of Pace" - Formerly called Young Minds, this two-song release is on Bandcamp, available for free download. Playing O'Brien's Pub in Allston on Oct. 23 (boo hoo, Sunday night conflicts!!!!)
YOU WON'T, "Who Knew" - On that Slowdim bill at PAs later this week. Score. Say you will and get to know You Won't.
TRABANTS, " St Petersburg Shake" - Playing with Dick Dale on October 16 at the Middle East, and if you're a surf rock band, that's pretty much the top-shelf shit right there.
ORGAN BEATS, "Sleep When We're Dead" - Noelle + Crew played opening show at Radio on Friday night, which was a rousing success. "Stay The Night" is the Phoenix's current Mp3 of the Week, but I love the buildup in this song so I played it instead.
YOUNG ADULTS, "Wasting Time" -- Song destroys. So it gets played.
HOUR 2 - Boston Accents goes electronic: LET'S HAVE A DANCE PARTY
ANDRE OBIN, "Valencia" - Upcoming single from Boston's finest solo electronic artist, and they rented a motherfucking Soviet tank for the video shoot. Track is off the Frontrunner record.
GLASS T33TH, "Dead Dreamer" - Tis the season for dark electronic, dare you call it Witch Haus, and Glass Teeth bring it heavy. Off this summer's remarkable CDR.
SOUTHERN BELLE, "Walk Out" - Last night Isom Innis played synths on Saturday Night Live with Foster the People, but a few years ago he lived in Boston and performed as Southern Belle. We even made this joint the Mp3 of the Week back in the day.
CASEY DESMOND, "Talking To God" - Latest single from Boston's electro-pop princess and survivor of NBC's the Voice. Hint: grab the track free this Thursday via On The Download.
THE CINNAMON FUZZ, "In Your Hands" - Long-awaited Party Fingers release bash this Friday at the Pill in Allston. The EP is a re-boot of the Cruise of the Century EP with new tracks and sexed up production, including this one, masterfully produced by new wave genius Anthony Resta.
AVOXBLUE, "Dreaming Through Your Eyes" -When Jimmy Rossi isn't holding down the sound at the MIddle East or skygazing with the December Sound, he makes enjoyably dark synthpop.

FUTURE BIBLE HEROES, "Lonely Days" - Old school jam off 1997 album Memories Of Love. A Stephin Merritt project with DJ Chris Ewen of Heroes/ManRay creating the music. Ewen is currently collaborating with the Boston Phoenix for the Top 100 Greatest Gothic Rock Anthems of All Time, due out Oct. 27.
SPF 5000, "White Hot Fantasy" - Playing Radio on November 11 with the aforementioned Streight Angular, releasing new single "POTS (Pussy On That Shit)" to mark the occasion. Throw it down.
GENTLEMEN HALL, "Take Me Under" - Glow-pop dudes ready to hit it big, killing it with 5,000+ likes on the Book of Faces.
FREEZEPOP, "Doppelganger" - Killer track off last year's Imaginary Friends record, which won Album/EP of the Year in the Phoenix Best Music Poll.
THE INFORMATION, "A Simple Plan" - Going old school Allston/the pill scene, back to 2005. The Information's only full-length, Mistakes We Knew We Were Making, was integral in getting me into Boston rock. I'm forever indebted to those assholes. Guest vocals by Phoenix writer Luke O'Neil, too.
HAVE NOTS, "Louisville Slugger" - one of the best songs of the year, and it's got a rad new video, too, directed by CircumVision's Mike Gill (Damn Personals, Murder Mile).
xoMichael
---