Boston Accents playlist 10.30.11: New jams + spooky sounds: Hush Now, Death Shepherd, Parasol, Ruby Ridge, Aloud, Wesleys, Sugar Snow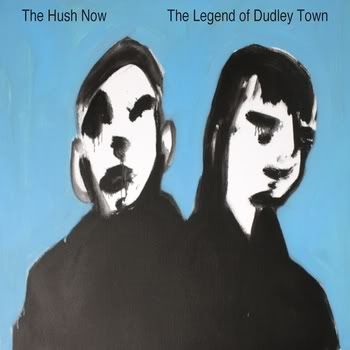 It's a New Music Spooktacular on BOSTON ACCENTS tonight, mixing up some fresh new rock and pop jams with some creepy experimental sounds from the New England underground. Feels good to be back in the studio after a one-week absence. We're back in action next Sunday night from 8 to 10pm, only on WFNX, 101.7 FM and streaming online at wfnx.com.
THE HUSH NOW, "The Legend Of Dudley Town" -- Last year it was an ode to Mephistopheles, this year it's a tale of the lost Connecticut ghost town. Another stellar holiday-appropriate tune from the Hush Now. Grab it here.
RUBY RIDGE, "Cloudsculpting" -- New project from John Flax (the Perennials), played a gig as the Cure over the weekend at PA's Lounge, but make their original debut tomorrow night at Great Scott opening for Pictureplane. First band ever to do a cover set before playing originals since... the Naked & Famous? (OH I KID!)
YOU CAN BE A WESLEY, "Giants" -- Fresh new track off the Nightosphere EP, which gets the proper release party treatment Tuesday, November 1 at the Middle East in Cambridge. MTV gave them some love. The Wesleys also hold the record for most gigs at Great Scott by one band, so it's good that Cambridge is getting a taste of these chipper fuckers.
PARASOL, "Firecracker" - This is the new obsession of Liz Pelly and I in the Boston Phoenix newsroom, and they are at Starlab on November 15. Get the whole Crush Season EP, it's great.
THE DAILY PRAVDA, "Dead House" - Ladies and germs, on Halloween weekend, we all live in a Dead House. I once played this song, off their 2009 Burning Bible Diamonds record, maybe 30+ times -- on repeat -- as an ex packed up her shit and moved out of our, ermm, my, apartment. Good times. Expect a new Pravda record in 2012.
SUGAR SNOW, "Lowest Part Of Your Heart" - Just got this, nice sound, reminiscent of that early-2000's wave of UK girl-pop (Black Box Recorder, Velocette, Dunbstar, etc.). Playing Projektfest '11 at the Middle East November 12 with Voltaire, Black Tape For A Blue Girl, and a bunch of goth kids pissed off at not being mentioned in the Boston Phoenix Goth Issue.
WAR PRESIDENTS, "Anna" - Lead track off new EP Minnesoda, which was first featured in our Phoenix Fall Preview. Playing McGann's Pub, of all places, on November 11.
TAN VAMPIRES, "Digital Rot" - Halloween-appropriate band repping Dover NH -- each week Dover has a say on BA, apparently: Felix & Volcano, Water Moccasins, etc. - and last year the Tan Vamps were our pick as 2010's Best New Band in New Hampshire.
YALE MA, "Danger City Population Me" - Release party for Act Like You've Been There next Saturday, November 12 at O'Brien's with Secret Music (ex-Yes Giantess) and others. Get the song for free this Thursday in the Phoenix...
STREIGHT ANGULAR, "Supermarche" - ...But before you do that, here's the current Mp3 of the Week, and Albert Polk and his merry rock crew are playing tomorrow night at ZuZu with Earthquake Party for the Night of the Living Deadhead party.
ALOUD, "The Cash And The Pearls" - Brand spanking new track to celebrate monthlong Wednesday night residency at O'Briens in Allston, starting this Wednesday November 2 with Slowdim, Deadbeat Darling, and Naked On Roller Skates. Future guests include Bearstronaut, New Collisions, Rick Berlin, and...
OLD JACK, "Hey Miss" - ...These cats, who release a new three-track maxi-single on the November 9 installment of the Aloud residency. Band up for Live Act of the Year in the Boston Music Awards, but they shoulda had "Chorus Line" up for Song of the Year. Frealz.
ORCA ORCA, "Change of Pace" - Former Mp3 of the Week'er, and... wait up.... yup, it still rules.
THE CINNAMON FUZZ, "Reboot My Heart" - Pouring one out for Type O Negative's Peter Steele on this Halloween weekend. Vocalist Jonah Burstein of the Cinny Fuzz is a huge Type O fan and you can really hear it in the vocals on this one.
HOUR 2 - OK, let's get dark and spooky up in here
DEATH SHEPHERD, "12 Phaezes" - Experimental trio out of Boston playing O'Brien's Pub Tuesday, November 8 (what the fuck - lotta OBs gigs this week) with the Brutalist School, DJ Won't, and...
GLASS T33TH, "X" - ...This week's Cellars By Starlight darling, welcome to the dark dance of Xavier Gath. His debut show last Wednesday at Think Tank in Cambridge, playing with Mexico's Ritualz, was a good time.
ANDRE OBIN, "Valencia" - From last year's Frontrunner EP, to be re-released as a single + video package this winter. The full effect: Directors have rented a Russian tank for the filming, and it will chase Obin down through Massachusetts fields. Look out.
MEDALLION, "Moon Rave" - Hazy beats off September's four-track Taylor Dunes EP, issued on cassette by AMDiscs (the Czech label of Young Adults).
FIENDS IN HUMAN SHAPE, "America" - No upcoming shows planned for this Somerville experimental duo, but keep tabs on them here.
THE FAUX, "Synthetic Hearts" - RIP Kirsten Malone. Several years later, still a ferocious sound from this ahead-of-their-time synthpunk act.
PROTOKOLL, "Moving Forward," - Off self-titled debut EP from a few years ago, still my favorite Boston band to ever exist or play music. Reunited for two shows at Great Scott this past April. This song should have been sold to Ford or Toyota or whichever had that Moving Forward ad campaign. $$$CASH$$$
DO NOT FORSAKE ME OH MY DARLING, "It's Your Funeral" - Boston angry stompy duo gonna shake up the sad goth kids at Projectfest at the Middle East later in November. How was their "Episode 1: The Arrival" clip not nominated for Video of the Year at the BMAs?
DOOMSTAR, "Rainbow Bloodsucker" - Broken up, back together, broken up, back together with the dude from Ja Hills, broken up, new project, Hunniebunnies playing everywhere, reports of a reunion, I don't even know what's going on but this song still rules and I have blood sucking on my mind.
THE NEW HIGHWAY HYMNAL, "Blackened Hands" - Latest single from the garage rock beast based north of Boston. Playing a house show in Allston Tuesday with Viva Viva, then Nov 27 at Church with Dirty Virgins and the Fagettes. It's a Sunday. I wish I could live broadcast from it.
CASEY DESMOND, "Talking To God" - Electro pop princess taking shit next-level with this banger that's taken over local dance floors. Video is kray-kray too.
IAN ADAMS, "Oh Dracula" - Off his fantastic Stay Up Late record from a few years ago, an appropriate way to end Halloween weekend. (Also yeah I said "8-Bit Shifter" on air, not 8 Ball Shifter, when talking Ian's previous bands lol sorry about that, buddy. Technology taking over my brain.)
Happy Halloween xoM.
---