Boston Accents playlist 11.06.11: Movers & Shakers, Earthquake Party, Night Fruit, Mission of Burma, Secret Music, Quilt, Camden, Yale MA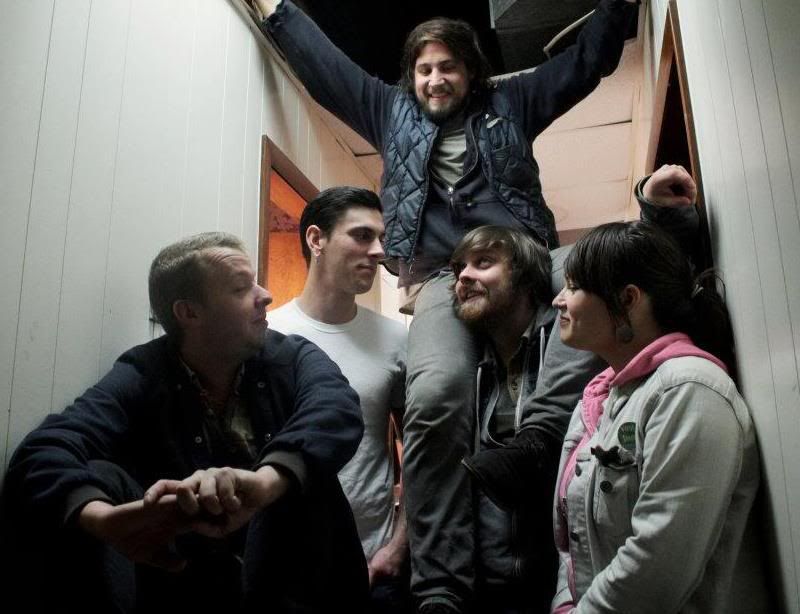 Rolling into November, tonight on BOSTON ACCENTS we dropped new styles and sounds from Movers & Shakers, Night Fruit, and unveiled the entire upcoming Earthquake Party EP. Hey, it happens. Hang with us every Sunday night from 8 to 10 pm, on the FM radio dial at 101.7 or streaming online at wfnx.com. If you feel it, follow us on Twitter (@BostonAccentsMA) and like like like our hot sauce on the book of faces. See you next week.
MOVERS & SHAKERS, "The Same Old Games" -- First track off new record National Harvester, release party this Thursday at the Middle East in Cambridgetown with Viva Viva and Creaturos, new band that brings together Doomstar and Ketman.
EARTHQUAKE PARTY, "Pretty Little Hand" -- New cassette release Vs Pizza coming Saturday, November 19 at Great Scott on a bill with Pretty & Nice, The Clippers, and Miniboone. Not sure why they want to take on pizza, but maybe it's a metaphor for life. You can't win against pizza, you can't win in life. Earthquake Party was named Best New Band in Massachusetts (hey! they won that! there is hope!) in our 50 Bands 50 States summer feature...
EARTHQUAKE PARTY, "Nails & Hammers," -- ...so clearly we're excited about this release. And since it's like 5 minutes long in total in total running time...
EARTHQUAKE PARTY, "Brains" -- ...we're playing the whole fucking thing tonight. Grab our free Phoenix EP, Live at O'Brien's, to hold you over in the meantime.
NIGHT FRUIT, "Bittersweet" -- Rad track off their new 7-inch Dark Horse, the long-awaited follow-up to 2010's awesome Triangles EP. New record is out December 9.
PARASOL, "Firecracker" -- Latest Phoenix obsession playing Somerville's Starlab on November 15, the day the pretty great Crush Season EP comes out. Download it via Bandcamp.
YALE MA, "Danger City, Population Me" -- This Thursday's Mp3 of the Week in the Phoenix! Record release party for Act Like You've Been There arrives this Saturday, November 12 at O'Brien's Pub, which also features...
SECRET MUSIC, "T.O.Y.S." - ...this duo, based in New York City but featuring Chase Nicholl, who used to play in Boston electro-pop prince Yes Giantess. Record out via Black Bell Recordings, a NY label run by Ayad of Passion Pit. Get the track for free.
CAMDEN, "Mustangs" -- Not interested in the Boston Music Awards? Then hit up T.T. The Bear's Place on November 20 as these dudes rock out with NGHBRS, Vending Machetes, and Mercies.
MUCK & THE MIRES, "King of the Beat" -- Cellarful of Muck release party November 18, also at TT's. Boston garage rock veterans celebrating their fifth full-length, and oh hey, the Dents are also "reuniting" that night, too.
BOZMO, "Milksnakes" -- Playing tonight at Radio with Thick Shakes and the Fagettes. Go there now, if bored. Band features members of the Wonderful Spells, Earthquake Party, and Pretty & Nice.
DIRTY BOMBS, "In Every City" -- Long-awaited Alpha Transmission EP release party this Friday at the Pill in Allston, band comprised of dudes from Televandals, Conservative Man, and the Luxury.
OLDJACK, "Hey Miss" -- This band played to THOUSANDS of people today. Yessir, they performed for hordes of New England Patriot fans on the plaza at Gillette Stadium before today's bumout against the Giants. Sweet gig, regardless of the sporting result. New EP comes out Wednesday at O'Brien's during the Aloud residency. New Collisions also on that bill.
STREIGHT ANGULAR, "Supermarche" - Former Mp3 of the Week in the Phoenix, walk into any room on any night in any Boston 'hood and chances are Streight Angular is on stage rocking out. Seriously, try it. This band never sleeps.
THE CLIPPERS, "Quiet Confidence" - Is this the most barren Facebook page with more than 90 likes? Yes, yes it is. Clippers on that EParty GS bill I mentioned earlier.
QUILT, "Penobska Oakwalk" -- New record out now via Mexican Summer, band getting huge press (P4k, Stereogum, and of course, the Boston Phoenix, in this week's Cellars By Starlight column, Playing November 19 at the Lilypad, as well as some house shows before then -- so ask a punk!
HOUR 2 - Wooo, kicking off with some old-school flavor...
MISSION OF BURMA, "Academy Fight Song" -- Legendary Boston post-punk band playing Brighton Music Hall two nights January 20 and 21. Going to be a sweaty madhouse.
BUFFALO TOM, "Summer" -- Another local leftover tied to Brighton Music Hall this week, and Buffalo Tom offers a three-night stand at the still-fresh Allston venue November 25, 26, and 27 -- and it's a killer lineup each night: Mean Creek, Thalia Zedek, J Mascis, Ted Leo, Tanya Donnelly all in on the action.
MISTLE THRUSH, "Small" - Gold-star '90 Boston rock band that defied categorization, had a few reunion shows the past year or so. Drummer Todd Demma now lives in Los Angeles, tours with Frank Black and Cake, vocalist Valerie Forgione is a bigwig at Newbury Comics. Catch up on them here.
HAVE NOTS, "Louisville Slugger" -- Yup, this music video still rules.
51 SHORTFALLS, "The Life Left Behind" -- Straight outta Malden, khed. These guys played Copperfield's in Kenmore last night. How was it?
YOUNG ADULTS, "Wasted Time" -- Cute little punk theme we just suddenly dove into. Both Young Adults and Have Nots are up for Best Punk Act in this year's Boston Music Awards... which no doubt will be won by Dropkick Murphys. Evs.
SOCCER MOM, "(A) Natural History" -- Couldn't find any upcoming show listings, as the band appears content chillin a bit after a successful release of EP You Are Not Going To Heaven. But -- Dan Parlin and Will Scales are doing a shoegaze night tomorrow at River Gods, billed as Vapour Trails, after Ride's '90s classic (and my all-time favorite song EVER ).
SLOWDIM, "Don't Cough Me Out" -- Playing Great Scott November 22 for the Wandas tour homecoming gig.
THE FAGETTES, "Mystery Pills" -- Dude they are playing live at Radio in Somerville AS I TYPE THIS!! Mindfuck.
VIVA VIVA, "Hailing a Cab In Hell" -- What's the Kim Deal EP pushed back to January 24, but the Vives play Thursday at the Middle East at the Movers & Shakers release party, then again at Radio November 18 with Amoroso and Bodega Sluts. Catch up with Boston's best live act in Thursday's Phoenix.
DECEMBER SOUND, "Kill Me Before I Kill You" - One of the best Boston rock songs of the 2000s. They played this past Friday at Radio, and no on-stage meldowns were reported. Good shit. (PS how fucking solid is this jam?)
GLASS TEETH, "X" - On a lovely electronic and dark dance bill Tuesday night at O'Brien's Pub with the Brutalist School (featuring a dude from Ambulance Ltd!! Whoa! Remember them), as well as DJ Won't Mayo, a thousand other DJs, and these fellas...
DEATH SHEPHERD, "12 Phaezes" -- ...so yeah, one hell of a bill, and roll up early to catch this electronic experimental trio we've been digging lately.
xo Michael
---