Boston Accents playlist 11.13.11: Leisure, Creaturos, Prefab Messiahs, Animal Talk, Squall, Black Light Dinner Party, Boston Hassle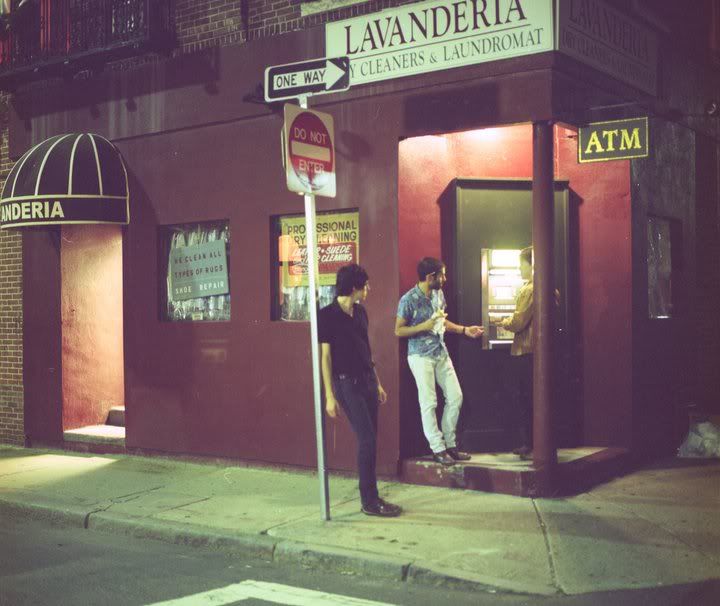 Killer show tonight! We got into the details of the T.T. The Bear's Place renovations, played the entire Creaturos demo -- all 13 minutes, son -- and announced our ROOM PARTY next Sunday at the Liberty Hotel for the BOSTON MUSIC AWARDS. Live broadcast! Drunken interviews! Terrible-sounding in-room performances! Band pillow fights! Oh my. We'll tweet the rest of the details, like the room number, around 7pm next week via Twitter: @BostonAccentsMA. Stoked...
LEISURE, "Green Light" -- Hypnotic track off new 7-inch via Crash Symbols, out in December, but before that drops, read up on the Cambridge trio in Thursday's Boston Phoenix. In the meantime, peep their lyrical website and watch the Three Colours-inspired video.
CREATUROS, "Demo" -- New 13-minute / one track demo of four or so songs off this trio's upcoming record, features Spencer Gralla and Noah Bond of Doomstar and Joe Marrett of Ketman/ Hallelujah the Hills. The physical packaging is a furry animal case and the CD creates an "eye" effect, limited to 20 copies that were gobbled up at this past Thursday's debut live show at the Middle East. Way cool. Maybe they'll make more when they play the Lilypad November 19 for the Quilt release party.
SQUALL, "Black Marks" -- New project from Robbie Lordi, who recently played in the underrated duo Human Tail. Playing with Thick Shakes and Radio Control at Charlie's in Cambridge on November 28.
THE BYNARS, "How Does It Feel To Be In Love" -- Playing T.T.'s this Wednesday, November 16 with Eldridge Rodriguez and the Front Bottoms. Before we dove into these cats I discussed the long-planned TT The Bear's Place renovation, which pushes the sound booth back maybe 30 feet or so, opens up the front of stage area and relocates the ladies bathroom. The room will get "deeper," which is always a good thing.
SKIMASK, "Fine China" -- The most dangerous band in Boston!!!! A part of our Class of 2011 feature of new bands to watch, much to their chagrin, apparently. Skimask are included on a new comp called Boston Hassle, put out by Boston DIY hero Dan Shea...
SARALEE, "Soft Sounds" -- ...Saralee kick off the comp, which is released via Playbutton on a three-inch playable button - or a pin, or a badge, whatever...
CUFFS, "Albert Kroft" -- ...released on December 11 with a party at Great Scott, it also features these cats, Cuffs. We'll have Shea on the show telling us all about it on December 4. Word.
NIGHT FRUIT, "Bittersweet" -- Shoegazy drone-y, photogenic-y, indie-ey-ey trio Night Fruit release their sophomore 7-inch, Dark Horse, December 9 at the Pill dance night at Great Scott (yes, that's my party, evs city).
VIVA VIVA, "Hailing A Cab In Hell" -- New EP What's the Kim Deal, pushed back to January, says us in this week's Phoenix, but the acclaimed band is also nominated for a two Boston Music Awards (Live Artist of the Year, Rock Artist of the Year). And speaking of, we announced tonight our BMA Room Party, where we shall live broadcast from a room at the Liberty from 8 to 10pm, do some interviews, have some drinks, announce the winners. Come hang with us. It could get real. We'll tweet out the room number around 7pm next Sunday, so follow @BostonAccentsMA to stay in the know.
EARTHQUAKE PARTY, "Pretty Little Hand" -- Off their new EP Vs Pizza, the E-Party play a FREE as fuck WFNX show with Surfer Blood tomorrow night at the Lansdowne Pub. RSVP here, and tell all yr friends. Show starts at 8pm sharp.
YOU CAN BE A WESLEY, "Giants" -- Straight from the new Nightosphere record, this song is not about the New York football team, the San Francisco baseball team, or anything jolly or green.
PARASOL, "Firecracker" -- We've thrown enough <3's in the direction of this cute-as-a-button trio, the Crush Season EP release party goes down at Starlab in Somerville this Tuesday, November 15.
WAR PRESIDENTS, "Strawberry Milk" -- We featured new record Minnesoda in our Fall Preview, and this jam lives up to the hype. So good.
QUILT, "Young Gold" -- Track getting love on XM's "XMU" station, off the band's self-titled record that you can buy at the Lilypad in Cambridge November 19 with Girlfriends and Creaturos.
FUTURE CARNIVORES, "I Can Wait All Night" -- MEandJOANCOLLINS and Guillermo Sexo come together. Playing live the Middle East in Cambridge November 18 with...
MUY CANSADO, "Love And Fear" -- ...these fancy cats. My French is no good so don't make me say this band name.
ANIMAL TALK, "Into The Sun" -- A man approached me on Friday night in Allston and gave me this self-titled EP. I dig it. Playing TTs in January, get ready.
LA PESTE, "Better Off Dead" -- Throwback Boston garage rock track that got me all fired up when Julie Kramer busted it out during this past Freeform Friday.
PREFAB MESSIAHS, "Sacred Cow" -- Going back to 1982 with this Worcester post-punk act, their Bobb Trimble-produced LP gets re-released November 15 off Brooklyn label Fixed Identity, on the 30th anniversary of their first ever gig. Pretty cool.
GUILLERMO SEXO, "Color The Noise" -- New single off Secret Wild, getting the release party treatment this Saturday at the Middle East on a fun fun fun bill with Boston Accents friends Dirty Dishes and Soft Pyramids, plus a few others. S A T U R D A Y HEY!
THE SUSAN CONSTANT, "Runner" -- Band played their first gig, at the late Abbey Lounge on the Somerville/Cambridge line, on this date in 2008. Big ups birthday boys.
I, PISTOL, "Trust" -- Off their record of the same name, but with all the swear words bleeped out!
KINGSLEY FLOOD, "I Don't Wanna Go Home" -- Americana-PLUS band announced Colder Still EP last week, released over three nights at the Lizard Lounge December 8, 9 and 10. Download the track here.
BLACK LIGHT DINNER PARTY, "Gold Chain" - Third single from NY/Boston quartet who still have not revealed their individual identity. This one's off Neon Gold out of New York, the kick-ass label that put out the Passion Pit "Sleepyhead" 7-inch. Their roster includes Marina & the Diamonds, Penguin Prison, Yes Giantess... Get the mp3 off On The Download.
CASEY DESMOND, "Talking To God" -- Electro-pop princess with a banger that still hasn't gotten old.
CONSERVATIVE MAN, "The Heist" -- Ian McCarthy of Dirty Bombs once led this Boston/Philly synthpop project, and I fell in love with this song when I first heard it a few years ago. Get it here.
YOUNG LONDON, "Let Me Go" -- Pop explosion coming to malls across America this holiday season. No joke, the "Let Me Go" video will be IN YOUR FACE while you shop for crap gifts for mom and dad next month. Get to know'em here.
Thanks for listening
xo Michael
---