Boston Accents Funeral Party: July 23 to 25 @ Great Scott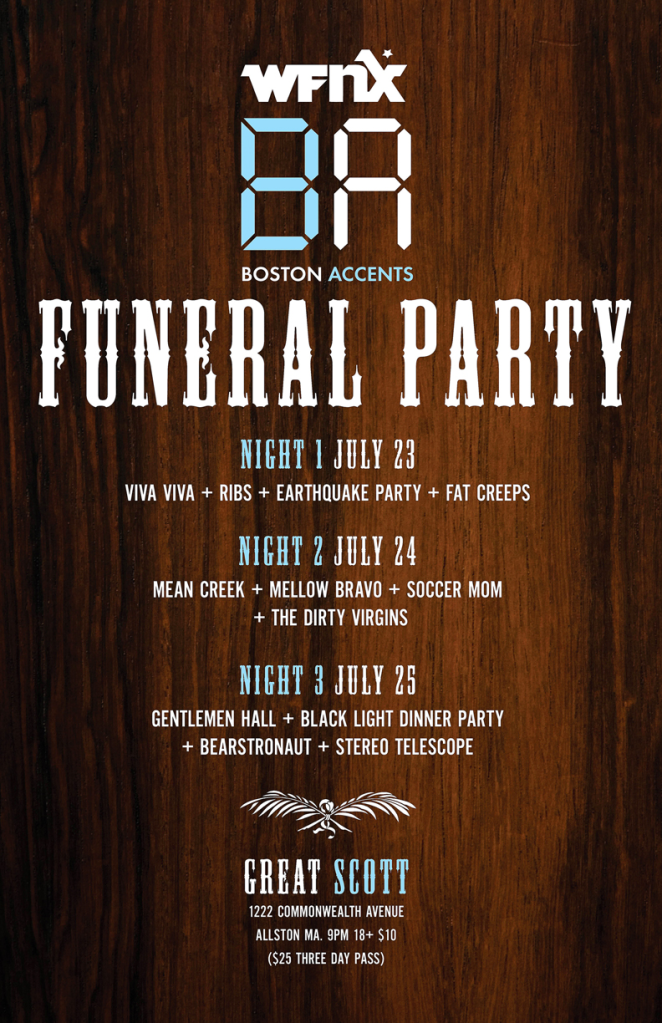 A few weeks ago, WFNX program director Paul Driscoll was giving an interview to a local news crew when he quipped that the final days of the alt-rock radio station would be like an "Irish wake." Here in the world of BOSTON ACCENTS, we're taking that attitude out of the Lynn studio and into the Allston clubs. The final Boston Accents show is slated to air on Sunday July 15 (with an all-night sleepover theme where all are invited to hang out with us), and the following week we go out in motherfucking style with three nights of rock and roll at Great Scott in Allston.
Here's the full 12-band lineup for the Boston Accents FUNERAL PARTY, headlined by three of the best acts in the city right now: Viva Viva, Mean Creek, and Gentlemen Hall. We could have done this in a larger venue, sure, but we wanted to pack an indie club out and be intimate while still throwing a hell of a party. Plus, there's no better place to pre-game than on the Great Scott patio with a couple of Will Clarks before doors open each night at 9pm. Hopefully by late July summer will have arrived.
Tickets to each show went on sale this morning: $10 per night, or $25 for a three day pass. We wanted to organize a party that best reflected the sounds of the show since I took it over last summer: a bit of rowdy garage rock, a a slathering of pure rock and roll adrenaline, and the slickest electronic-pop beats to raise from our city. This lineup fucking kills.
NIGHT 1 of the Boston Accents Funeral Party: Monday, July 23
VIVA VIVA
RIBS
EARTHQUAKE PARTY
FAT CREEPS
Tickets available through Ticketweb
NIGHT 2 of the Boston Accents Funeral Party: Tuesday, July 24
MEAN CREEK
MELLOW BRAVO
SOCCER MOM
DIRTY VIRGINS
Tickets available through Ticketweb
NIGHT 3 of the Boston Accents Funeral Party: Wednesday, July 25
GENTLEMEN HALL
BLACK LIGHT DINNER PARTY
BEARSTRONAUT
STEREO TELESCOPE
Tickets available through Ticketweb
Believe in Boston xoxo
---