Is this the Coachella 2012 lineup or the first fake poster of the season?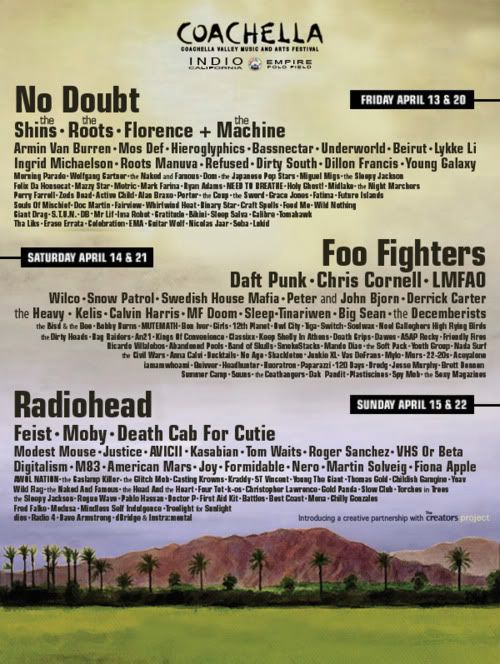 So this flyer suddenly made the rounds on the interwebs this evening, and well, it's one of two things: it's either the official lineup for next spring's Coachella Music & Arts Festival, or it's the first fake of the 2012 season.
Both possibilities are pretty newsworthy. Coachella poster fakes -- spotting them, debunking them, and laughing at their rampant ridiculousness -- have been just as entertaining in recent years as the real, actual lineup announcement.
There are some concerns, like the Naked And Famous listed twice, Armin Van Buuren spelled incorrectly, a misfit dot between Joy and Formidable, the disbelief that Noel Gallagher and Bon Iver would accept 5th-deck disses, and as my intrepid former music intern points out, there's "Peter And John Bjorn," FFS. If this is legit -- and we now doubt it is after sleuthing the above -- well we're looking at nighttime headlining slots from Radiohead, No Doubt, and Foo Fighters, the first two having been all but confirmed a few months ago.
The other players make sense -- Flo, the Shins, Daft Punk -- and there are no real outrages in terms of band placement (though Best Coast and M83 seem disrespected in terms of font size).
As far as band omissions, well, sorry Paul Driscoll, no Pulp, the Smiths, or Stone Roses on this effort. Sad to see Suede were a one-and-done.
Massachusetts has two representations on first glace: Worcester's Dom, and a hip-hop veteran that's famous everywhere but where he's from, it seems, in Boston's Mr Lif.
So what's your take: is this the real deal or a fake? Regardless, WFNX and the Phoenix will be there in full force, holding down the Sapporo House like usual, and hopefully they let us stick around for both weekends, as this year's Coachella repeats itself to accommodate more revelers.
Get stoked.
---